Wow, I really suck at posting, don't I?
Ah, well. I've been busy prepping for my sock class.

The first class was last night, and boy was it interesting!




Before I even left the house my glasses broke, and we couldn't get them fixed so I had to run around and put my contacts in (I badly need new ones, and my vision isn't as clear as I would like with my contacts) so I got there late, but I was still able to get everything set up, but it meant we got off to a later start than I would have liked.

It was fun watching everybody pick out their yarn, everyone trying to match yarn to folder. I hand dyed all the yarn for the class myself.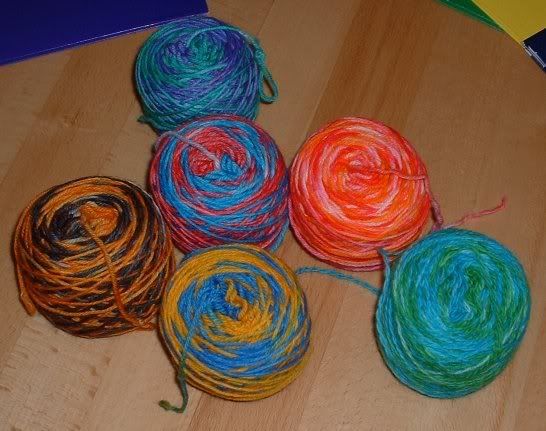 I did a short lecture on types of sock yarn, and types of socks, and then we got into the thick of things. Tonight was casting on and casting off. There was a little trouble and it took longer than I had anticipated, so I couldn't show them everything I had planned, but everybody learned something new, and they all especially liked the Sew bind off.

It's going to take a little magic on my end to figure out how to teach them everything they missed last night, plus everything for next class as well, but I think we'll manage, I'm just going to have to overhaul my materials.


I haven't just been prepping for class though, I have been knitting!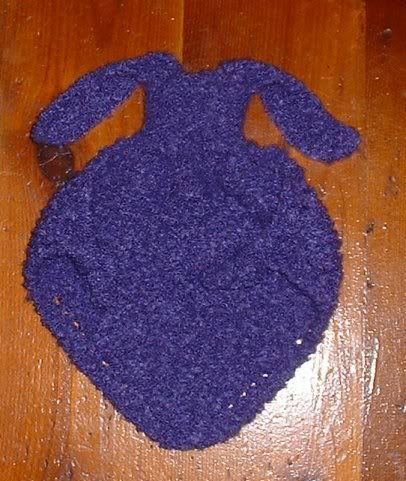 We recently found out that Bill's cousin is expecting, so I knit up a little Bunny blanket buddy the picture sucks but he's amazingly soft and cuddly. I used TLC Amore, which was a bit of a pain to work with, but soo cuddly.

And I've also started this: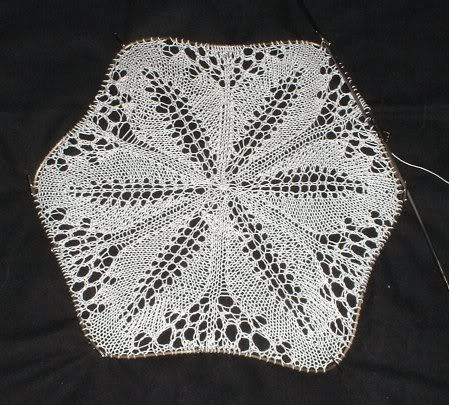 It's the frosted ferns pattern. It was republished by the Spool Cotton Company, but it's a common consensus that it's a reprint of a Herbert Niebling pattern.
I'm using the chart from the Niebling yahoo group, (the written instructions have you break the yarn at one point, which is just silly, the chart fixes that) but the charts were so unreadable that I re-charted them (keeping my fingers crossed that I did it right).

So far so good, there are few spots where I'm not quite happy with my tension, at one point I dropped a couple of stitches, and ended up loosing almost a whole leaf. I had to go back and re knit up the entire section, and that played havoc with my tension on the edges, and there are two sections between leaves where things are a bit loose from where there were gaps from using magic loop (I'm almost afraid to see how bad it would have been if I were using DPN's!) You can be pretty vicious when blocking cotton, so I'm hoping most of the issues will be worked out then.