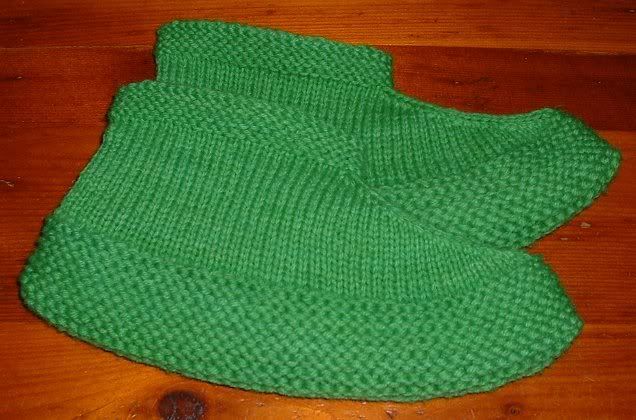 the superman slippers I made for Bill back in October have already sprouted holes. This made Bill pout, so I decided to hand dye some pretty green yarn (his favorite colour) and make him a new pair.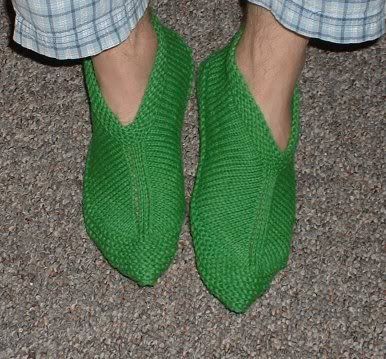 Since these are slightly larger than the last pair I made they have a little 'point' at the toes, and since they are green they are now dubbed the elf slippers.

the pattern

mods made:
Cast on using magic cast on and knit slipper in the round = no seaming = YAY
CO 90 sts. with size 6 needles Knit 16 rounds in garter, then 1 round plain before decreases.
Double strand sole, used wooly nylon as well, last pair wore out very quickly.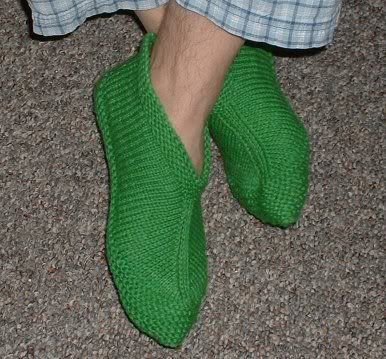 Since its winter here, we have been drinking a lot of Tea, the best way to make tea? In a Teapot!
But we can't have naked teapots, so I made a tea cozy: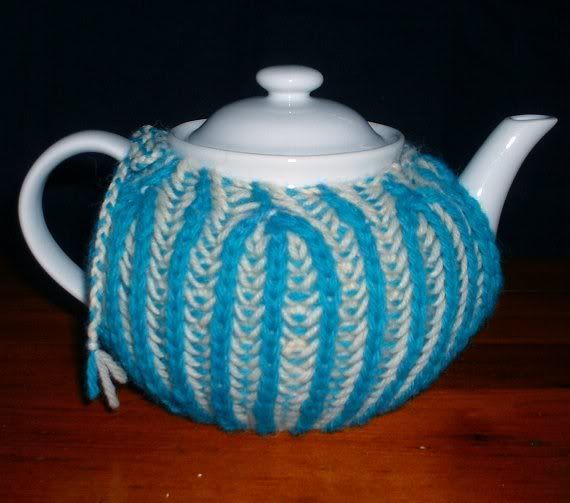 It's the bi colour brioche cozy by Megan Mills I've used her patters before to make hats ad gaiters for Bill and I, I love brioche stitch!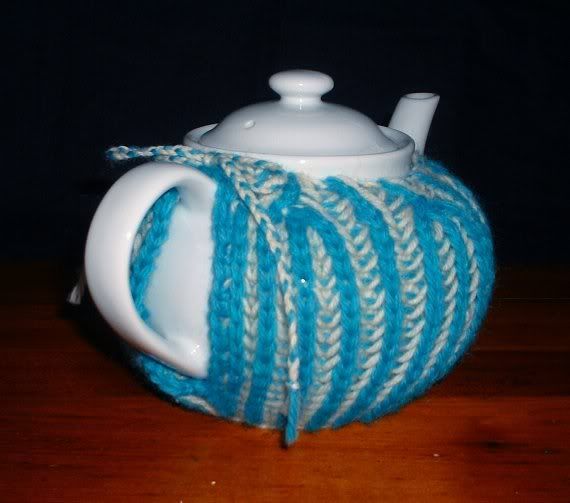 modifications to the pattern
I cast on 10 sts circularly then:
r1: kf&b around
r2: (&all even) k
r3: (k1, kf&b) around
r5: (k2, kf&b) around
r7: (k3, kf&b) around
r8: (k4, kf&b) around
R10: purl

I then began the pattern

I knit the beginning as for a non tubular cast on (6 rows all together) then knit an extra 4 rows after splitting for the handle but before splitting for the spout.

After I closed the spout hole I did the called for 5 more rows, but then skipped directly to stage three, closing the handle hole on round 3 of the decrease leaving me with 28 stitches total.

I knit 4 more rows after stage three, and then instead of binding off, I made a braided cord, and threaded it through the live stitches to use as a cinch.

I'm not completely happy with the way the decreases lined up, but it's still pretty and it works. I did a line of Single Crochet around the handle and spout openings to even out the edges, the pattern has you slip the first stitch of each flat row, but no matter how carefully I followed the directions I couldn't get them to look even or even the same on each side, but the crochet took care of it.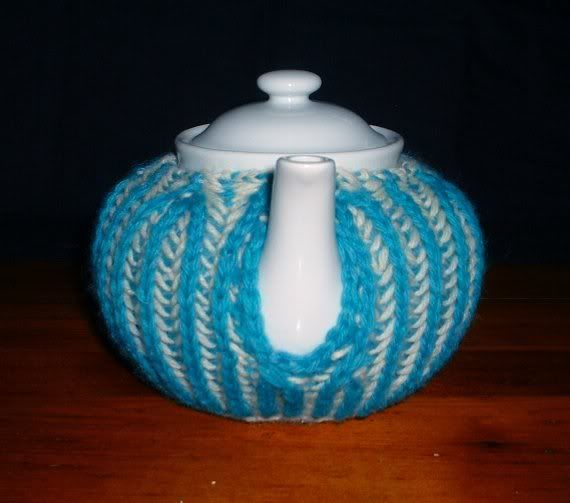 and finally, a Squarey!
I've named him Pillow Guy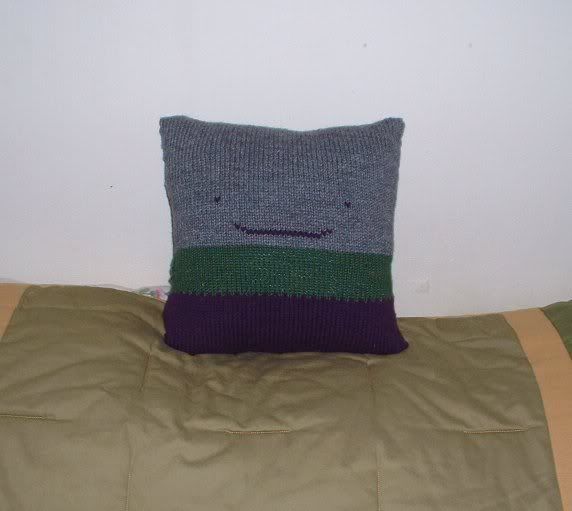 I was inspired by all the adorable squareys out there, I don't actually have the book (Unusual toys for you to knit and enjoy by Jess Hutchison), but its a frikkin square!

To fit a 14x14 inch pillow gauge = 4.5 sts/inch
using magic cast on cast on 124 sts and knit in the round knit 3 inches in "pants" 2 inches in "shirt" (5 inches overall) knit back half onto waste yarn (a la thumb trick) knit rest in "skin" (8.5 inches)

Remove waste yarn, put stitches on holders.

Kitchener up top of pillow guy.

bo bottom held stitches, knit 1 inch in "shirt" on top held stitches, place button holes (k11, bo3 *k10, bo3 * rep, k9, on next row, co3 over bo bits) k 1/2 inch more, bind off. Sew edges of button hole flap to the sides. Embroider face.

Legs (make two): co 20 in "pants" knit 10 rows, switch to "skin" knit until leg measures 9 inches, switch to "Shirt" knit 4 rows. Next round: k3 k2tog around, one row plain then k2tog around, then k2tog around again thread yarn through rem stitches weave in ends. Stuff legs and attach to body.

Arms (make two) co 20 in "shirt" knit 5 rows, switch to "skin" knit until arm measures 5.5 inches, on next round: k3 k2tog around, one row plain then k2tog around, then k2tog around again thread yarn through rem stitches, weave in ends. Stuff arms and attach to body just below where "shirt" turns to "skin"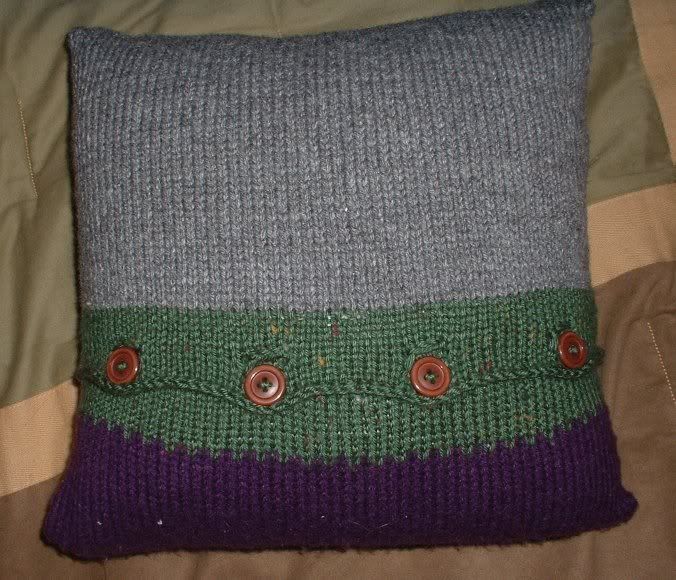 ok, so I haven't added any limbs yet, and I'm not sure if I want to, so he's going to stay like this for a while until I decide.