ETA: thank you all for your interest in my pattern, wow, I wasn't expecting so many people! it seems there has been a little confusion as to how to obtain this pattern. the best way I have found is to click on the link below, this will open the file in acrobat from your browser, once the file is open and completely loaded, go to the file menu within acrobat and 'save as' or 'save a copy' (depending on your version of acrobat) onto your own computer.

thanks again!


Here are the modeled pictures, taken this morning.
It is a gorgeous day out, and we were surrounded by birdsong throughout the photo shoot.
(I also had the sun directly in my eyes whenever I faced the camera, so that's why I'm all squinty)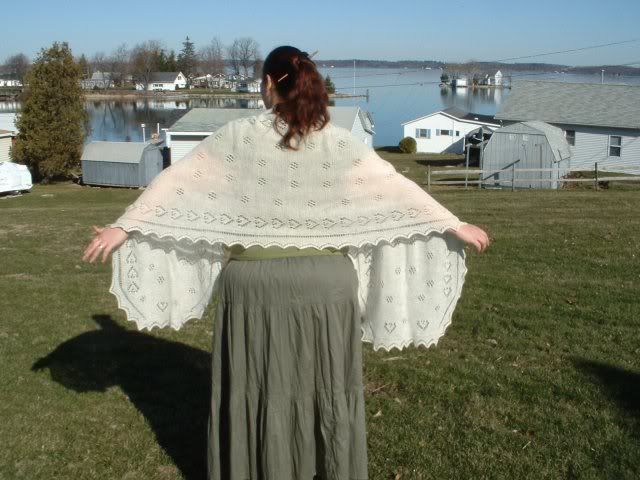 stats:
Yarn: Knit Picks 100% Merino bare lace weight
Needles: US size 5 inox circulars
Time: a little over a month of straight knitting
Pattern: my own, you can download the untested PDF:

(open in acrobat, then save from there)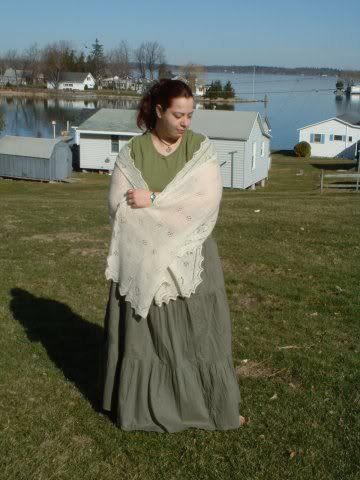 I had a lot of fun with this pattern actually; it's a very simple knit, but made exciting by the Orenburg flavor.
Bill's mom is tickled by the flowers running up the center; she says it looks like a cat ran down the middle of the shawl. And that was actually what I was going for ;)

I had some issues getting the upside down hearts to mat the right side up ones, but that was figured out in short order.

A hint for marathon knitting like was one here: Audio Books, the knit was simple enough that I didn't need to concentrate too much, but that meant I got bored quickly, but the audio books really helped keep my brain occupied.