the newest episode of Whiskers in a Twisted Stitch just went live.
This weeks episode includes music by George Fletcher's Bourbon Renewal, Asymmetry, .22, Unkle Bonehead, Beau Hall, and Charlie Crow.

Besides the podcast I haven't been up to much.
The wedding veil shawl is coming along splendidly, but has become too long to photograph very well. I've started a new pair of socks. It's a slight variation on the Falling in Love socks from magknits I had to futz with it a little to get them to fit in my desired gauge.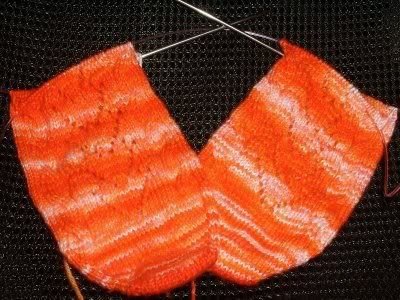 It is so hard to properly take pictures of red and orange! Ugh.
Trust me, these look much better in person.