I am most definitely not Mary.

I have reached the sheep, and am beginning to regret my initial excitement at knitting them.

They are kicking my butt.
Hard core.

So far I have gotten half way through a row, not once, not twice, but THREE TIMES only to discover I messed up a stitch count somewhere at the very beginning and need to tink all the way back.
Did I mention each pattern row takes roughly half an hour to complete now?

My biggest problem is they are not all neat and geometric like the rest of the patterns, so I'm having a more difficult time reading my knitting than I was before, so I don't notice the mistakes sooner.

Le sigh.

Luckily after the first few hellacious rows I'm getting better at reading the knitting and predicting how their little sheepy shapes are formed. Here you can see the leg-less sheep in all their evil splendor.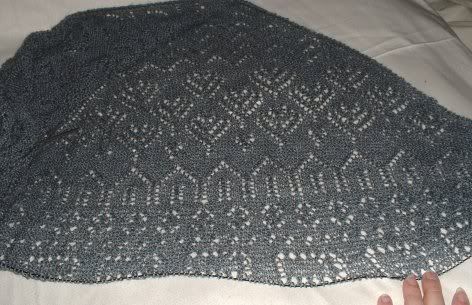 (the shawl is getting quite large and it is becoming more and more difficult to photograph it well.)

I lied earlier.
I haven't been giving the shawl my undivided attention.
I can't.

You see, I need a simple project I can put down quickly and don't need to pay very much attention to for times like knit night, which was last night, and when I take Bill his lunch at work, like I did this afternoon.

So I have the Naga socks: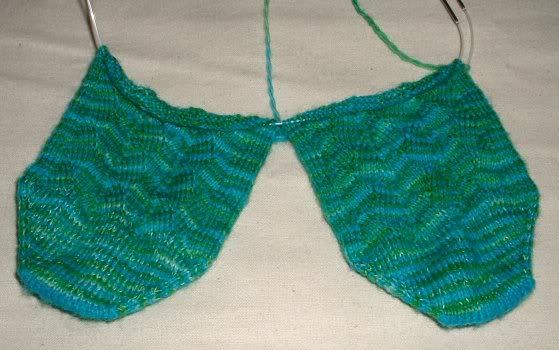 I'm using the blue green hand dyed I made, and I'm designing the pattern as I go. Hopefully I'll have a really neat sock pattern for you all when I'm done.

You may remember that these were the 100% wool socks that I knit a bit of sewing thread along the toes. And then later learned that this may not be the best thing for socks. So the other day I went looking around the net and discovered that many sock knitters prefer a stuff called woolly Nylon for a reinforcing thread on 100% wool socks. It's nylon so it's strong, but It's stretchy and soft, so it will stretch with the yarn, and won't cut through the yarn like sewing thread is said to do.

It comes in about 50 different colours, and I found a great deal for them at www.threadart.com about $3 for a 1000 meter spool. (since you only use it on toes and heels, one spool will last a long time!)

Ta da!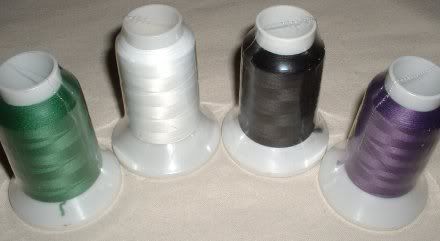 I'll be running a strand of the green along the heels of the Naga Socks.
It will be and interesting experiment!