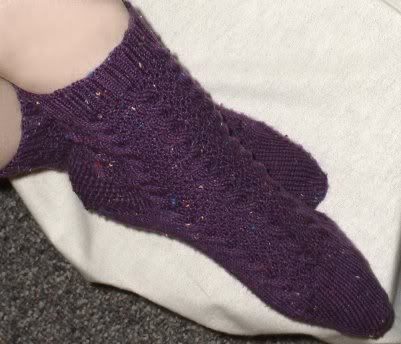 I JUST finished these, Just in time to wear them to knit night tomorrow, I'm so excited!

These are my second pair of socks (I've knit other sock like items with worsted yarn, but these are my second sock yarn socks) and I'm getting much better at perfecting the fit and design that I like!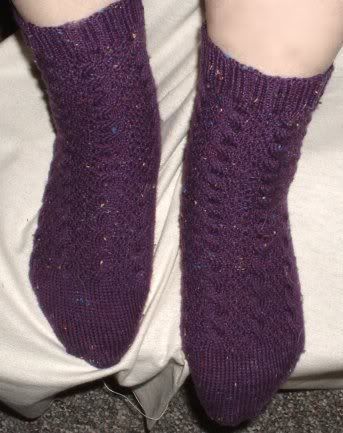 The stats:
Yarn: Knit Picks Essential Tweed in Plum
Needles: HiyaHiya US size 2 (2.75mm) 40" circulars.
Gauge: 9 stitches and 11.5 rows per inch

Method:
Toe up, two at once, Turkish cast on 30 sts, increased to 77, short row heel over 38 stitches, (11, 16, 11)

Pattern:
3x3 cable with moss stitch from page 68, "Sensational Knitted Socks" by Charlene Schurch, and eye of the partridge pattern over heel stitches.

Notes:

I did the cable patted slightly differently than called for in the book, I didn't want the moss stitch flanking the sides of my foot, and I wanted to see how a cable would look next to plain stockinet, so I switched the 'front' and 'back' of the pattern.


The last pair of socks I made from Knit Picks essential is fuzzing up more than I would like, so I knit these at a tighter gauge, and I also decided to try my hand at the Eye of the partridge heel I keep reading about. It's usually done on heel flaps, but I like the way short row heels fit me better, so I just threw in the pattern over the heel stitches as I was short rowing back up.
I enjoyed this type of heel, it looks neat, and I'm hoping it will hold up better. In the future I don't think I'll do the patter over the full number of heel stitches, it looks a bit funny on the sides since I do my heels over a full half of the sock stitches. Next time I think I'll only do it over the middle half of the heel.


I don't particularly like tall socks in general, and anyways my legs are quite fat, so they always get a bit too tight if I go past a certain height, and I was feeling too lazy to figure out how to increase neatly for my calf. So I didn't. Unfortunately cutting the leg so short makes it look kind of stumpy when I'm wearing it, but I don't mind that much.


despite my earlier complaints, I LOVE knitting with this yarn, it's soft and squishy comes in such pretty colours and is just generally delightful to knit.
Now that those are done, it's back to the sheep shawl, which has been languishing since I made a mistake and had to tink back over half a row. I was crushed and haven't been able to look at it in two days.