First: a great big, huge THANK YOU to everybody who sent well wishes to my father.

He came home Saturday evening, much earlier than any of us were really expecting, and is doing wonderfully.
They did not do the stents that they had originally been planning, I'm unsure of exactly they did end up going with, but apparently they couldn't anesthetize him during the procedure, and it was incredibly painful for him, but a much quicker recovery time.
He's still experiencing a little bit of discomfort but can return to work as early as tomorrow if he would like. That is a huge weight off of my shoulders, and I'm very glad to be home again.


While I really didn't think I would get much knitting done while at my parent's house, there was a surprising bit of downtime with just me and my thoughts, so to keep my mind busy I cast on for and knit these: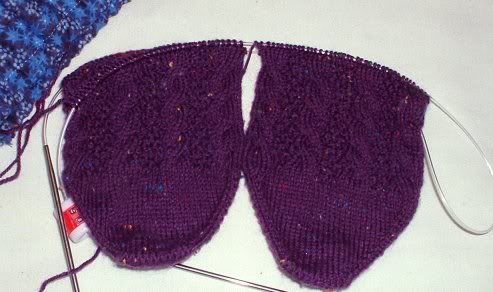 they are a variation on the 3x3 cable with moss stitch pattern from Sensational knitted Socks by Charlene Schurch

I'm using Knit Picks Essential tweed in Plum.

I am not quite happy with how bright and ... circus-y the tweeding is. You can't see it very well in the picture, but it is *bright*. I had originally meant this yarn to be for my cousin Tasha for my wedding, but this is not something she would wear. I'm glad I saw an example of it knitted up on the knitting curmudgeon's sight before I started something for her. I don't mind the bright tweed as much, so they are now socks for meeee!


And to hold the socks in progress I broke out my grandmother's old singer sewing machine and made this: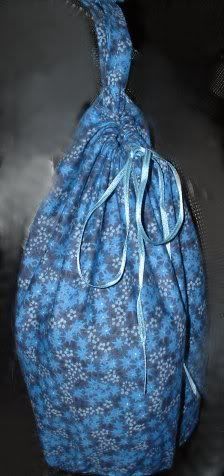 the strap has a little snap and can fit over a wrist or be hooked through a belt loop, very similar to these but for a fraction of the price! I'm not the world's best seamstress (or even a very mediocre one) but I had a great time making this, and want to make a few more to coordinate with my socks in progress! It is way better than my usual method of storing socks when I'm not working on them. (a plastic grocery bag.)

Speaking of socks, before everything with my father happened I had finally reached the heel on my mis-matched Regia socks: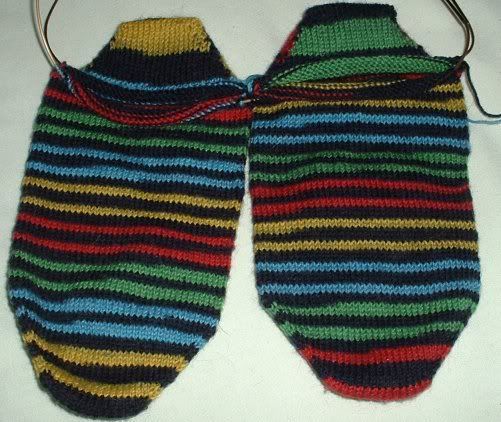 how fun and bright!


Once I got home as was able to relax I got back to the sheep shawl.
Even with a week long break I'm making pretty good progress:




I've finished the village and the sunflowers and am ready to start the first grass chart before the sheep! So excited!