Well, the oval doily is done! All I need to do now is wash, starch and block it. Unfortunately I don't know when I'm going to be able to do that. Hopefully I'll find a safe place for it within the next week or so.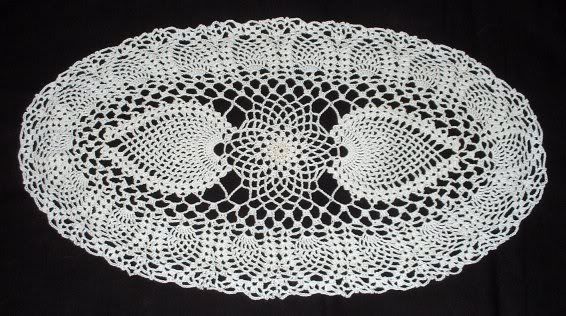 it looks a little better then the previous photo, but it would greatly benefit from a good blocking.

***

while at Jo-Ann's the other day I saw a spiffy dishcloth book (garden dishcloths to knit) after I got it home I cast on for the Butterfly dishcloth.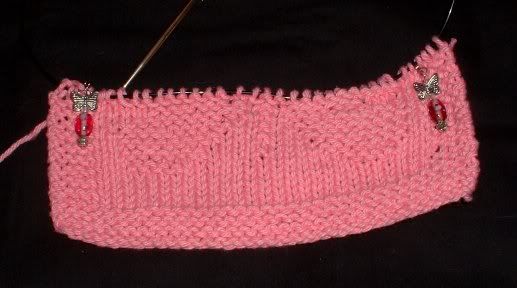 So far so good, I think it will make a nice washcloth to put into a sort of bath gift basket for my mother for Yule, I already have a nifty recipe for fizzing bath salts, plus a bar of natural soap from the people at NYS&W and it will be perfect.

Speaking of butterflies and other winged creatures.
While surfing around Ravely (uh oh...) I spotted the most gorgeous filet crochet fairy pattern and fell in love, I really, really want to make this, but I've never done filet crochet before, so I looked up a bunch of tutorials, and then went looking for a slightly easier pattern to practice on.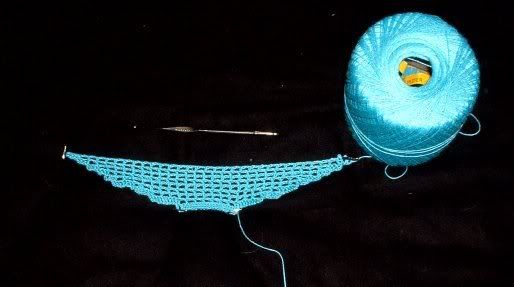 so far so good! It's the Filet Butterfly Doily from Celt's vintage crochet. I'm just about ready to start the actual butterfly part, and am quite excited.

I'm not entirely pleased with the way the filled mesh increases look at the end of the rows, but I'm sure I'll get better as I practice.

I seem to be in the middle of a major thread crochet jag, and the feather and fan shawl is still on hiatus, don't worry, I'll get back to it eventually.