Aren't they spooooooky?
Ok, maybe not, by they are very autumnal, it's a pair of socks I'm making for Bill out of some of the yarn I bought at Rhinebeck. Dorchester Farms Hand painted.

I was hoping it would turn out more like the toes – all mottled, but the striping is pretty spiffy too, kind of looks like tiger stripes. One skein is striping thicker than the other, but that's to be expected with two separate skeins of hand painted yarn. This is why I prefer just one big skein.

I did finish the squirrel and oak mittens too, on Saturday actually; I'm just a big slacker and didn't get around to posting about it until now.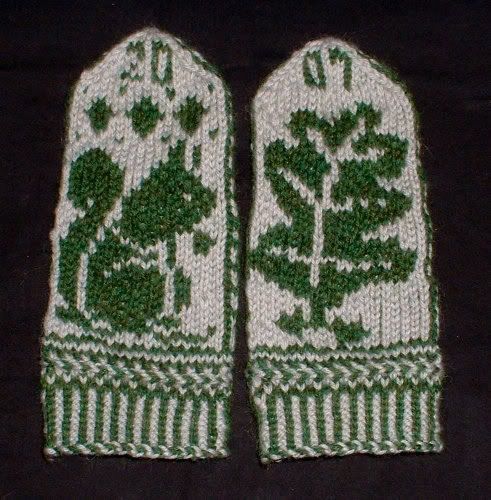 I had a lot of tension issues; this was my first time doing stranded colourwork two at once. And most of it was car knitting, which is never too even to begin with.
I'm hoping a good blocking will help them, but right no Bill loves them as they are and won't give them back, he's already worn them out several times. Maybe they will even out with wear, and I know I'll be able to block hem in the spring when I was all the winter wear.

Then there is this little guy: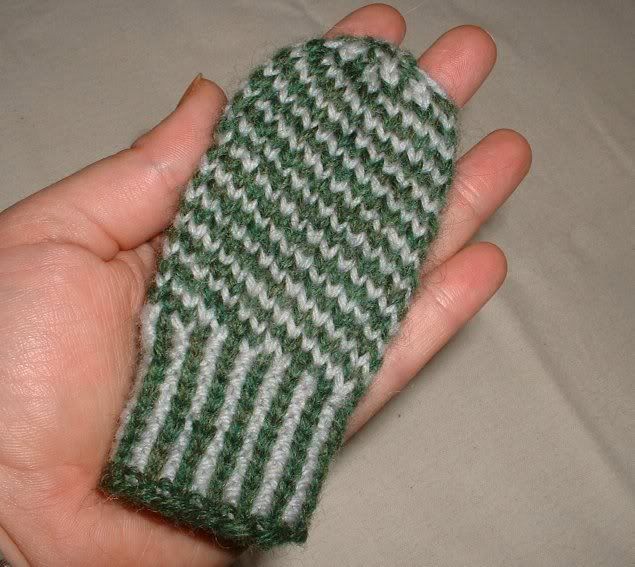 One of the ladies at my knit night recently became a grandmother and wants to make the little ones some winter mittens, but she doesn't want to knit just plain baby mittens, she wants color work, and not big motifs, but little all over ones, I went online and looked around but couldn't find much, and she refuses to improvise, so I'm working out a pattern for here with a couple of different colourwork patterns to choose from.

I hope everybody has a spooktacular day! I live too far out in the boonies to get trick or treat-ers, so I'm making muffins and Bill and I are going to watch movies tonight. Woo!