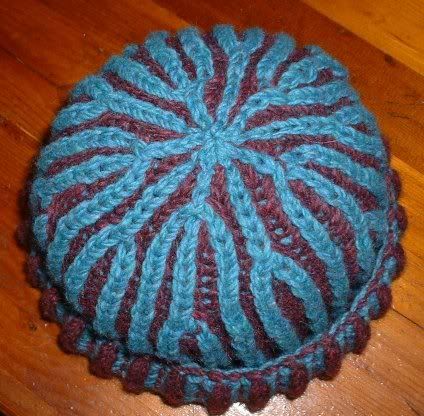 Yeah, it's getting cold, and all of Bill's hats, while ok, were all acrylic and rather old, and since I really wanted to try out EZ's prime rib, I made him a hat.
Unlike Elizabeth Zimmermann though, I dislike seaming more than I dislike purling (I see purling much like I see vegetables, if you get a knitter doing it early enough, and keep it up, soon you're used to it and don't mind it quite so much, and if you are particularly special, you will even begin to live it), so I looked around and found somebody who had devised a way to knit Brioche stitch in the round. While perusing her sight I saw she had also figured out how to do it in two colours, and since I just happened to have more than enough wool left over from the ganomy hat, I used that. Perfect!
Pattern: Bi coloured Brioche stitch hat, in the round
Yarn: worsted, hand spun, hand dyed, home grown Border Lancaster wool from a local farm in my area.
Needles: size us 7, 16" circulars and us 7 DPNs for the top.
This made a wonderfully squishy and warm and cozy hat. It fits me beautifully (22"), and due to the awesome stretchy power of the brioche stitch, fits Bill's gigantor (24") head as well!
I'm especially fond of how the decreases make arches in the coloured ribbing.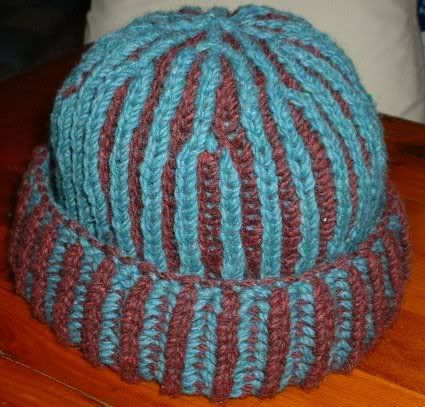 and one from the inside, I like how nice it looks on the 'wrong' side too, nifty.