Today is the bi-monthly meeting of the Clayton Knitt Witts.
Last meeting we decided that we were all going to make little knitting themed ornaments for a Christmas tree that would be on display in town. I always have a moment of panic when it comes to group projects that I'm the only one doing any work, and since I really want to show how awesome our group is and to promote it so we can get new members; I went a little overboard...
The mittens are from this pattern
The stockings are from here
The stars and trees are from EZ's Knitters almanac. you've seen those before.
And then there is this little gem: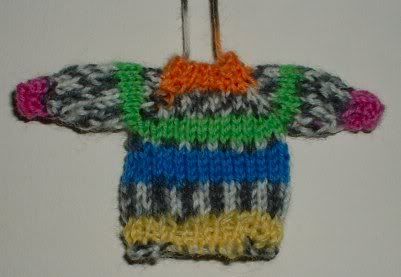 I just thought of sweaters today, so I made up the pattern as I went, I was so tickled with myself, I love how the colour repeats in the sock yarn worked out perfectly, I managed to work in every single colour repeat. It so looks like a sweater Barbie would wear in the 80's, it's just missing a wide boat neck so it can be worn off one shoulder.


After a little searching I came up with this pattern from the web which is pretty darned close to what I did, but I started with more cast on stitches, so mine is probably a bit larger.


And since I can't go to knit night without something to show of and work on, I have this: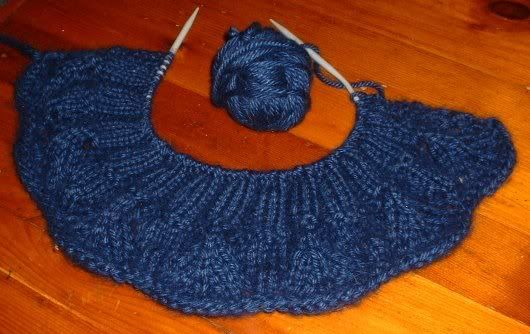 A neck warmer of my own design, a wide lace pattern, and then ribbing for the neck, I saw something similar to it long ago when I first started knitting, and reverse engineered the pattern from memory. I'm using Knit Picks Panache which is a sinfully decadent yarn. i hope I have enough to finish, as I only bought one ball. Once it's finished and I've had a chance to polish up the pattern I'll post it here.




And because I'm in the ribbing of the neck warmer, which I find incredibly boring, and can only work on for so long, I started another project: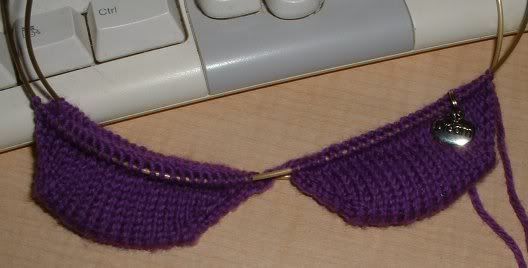 These will eventually be a pair of socks, similar to Knitty's Hedera but different as I'm working them toe up and with a short row heel, and at a different gauge, and two at one magic loop style. (yep, that's a lot of mods.)

I'm making them for my cousin, Tasha, who will be a bridesmaid at my wedding, all I have to go on is her shoe size, so I'm keeping my fingers crossed that they fit.