So this is
the moral of my ode:
beauty is beauty
twice over
and good things are doubly
good
when you're talking about a pair of wool
socks
in the dead of winter.
-excerpt from "Ode to a pair of socks" by Pablo Neruda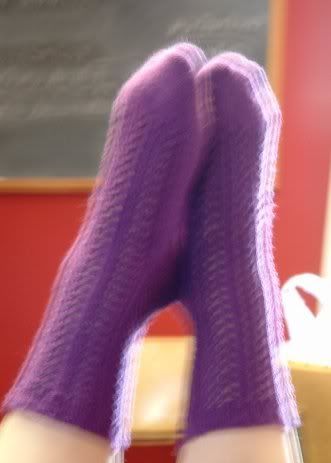 I finished the Hedera look a likes last night while visiting my parents.
Stats:
Yarn: Knit Picks Essentials in African violet.
Needles: US size 2.5 (3mm) Addi Turbo 40" circulars (Addi calls them US size 2, but I've always hear 3mm's called US2.5)
Pattern mods: everything but the stitch pattern. I did these two at one, toe up magic loop. I knit them at a slightly tighter gauge than called for, added an extra pattern panel so that I worked on 70 instead of 60 stitches. Did a short row heel and did 3x2 ribbing for the cuff.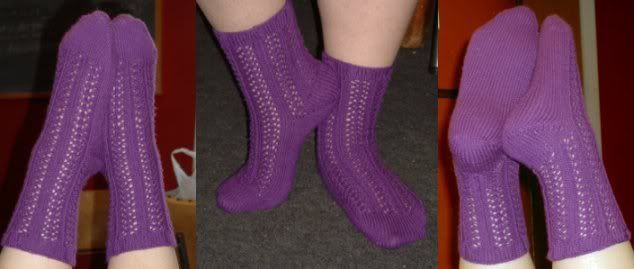 Notes:
My first pair of sock yarn socks, before now I've done mostly worsted house and boot socks. These were originally supposed to be for my cousin, but her feet are size 7.5 and they fit my 9.5, yeah, still figuring out how in the world I thought they would fit her with my gauge and cast on stitches. They are even a little big for me, and tend to bag a bit around the ankle.
I've learned more about negative ease now, and have a better grasp of how to size socks to fit who they are supposed to fit. I also decided that I think would like my socks knit tighter as well, the fabric felt a bit loose to me, I think I'll be doing my future socks on smaller needles from now on.
The heel is a Sherman heel, which is a variant of a short row heel. This method was by far the easiest I've ever done, and came out with a beautiful heel with very little fuss, and I barely had to pay any attention. I made the heel too narrow though, I shouldn't have short rowed down to as few stitches as I did, but they still fit relatively well, and I just chalk it up to a learning experience about how to make socks fit properly.
I probably also should have knit the cuff for a little longer, but by then I was just getting sick of still working on these socks and I wanted to WEAR them!
And I leave you with a better view of the perfect heel: