I blocked the sheep shawl the other day.
It got huge!
Before: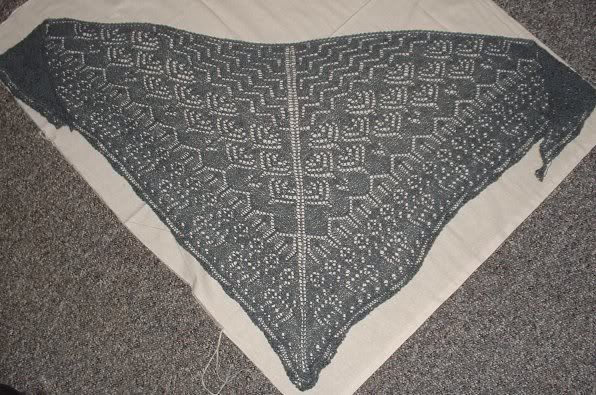 After:



A lot of people said when they saw the unblocked picture that it hardly needed blocking, and so did I, but now that I see the difference, it's amazing! The Zephyr is just awesome to work with, I was afraid that the washing as blocking would take away it's sheen, but if anything it got even better.

Modeled:


(not the best picture, but the best I could do with a tripod and a 10 second lead.)

I can't wait to give this to Monica.
It's a good thing that may is right around the corner!

Up next, the wedding veil shawl.
I have a little started on it right now, and it looks rather un-assuming, but I'm hoping that it transforms as beautifully as the sheep shawl did. I'm only knitting it in merino lace weight though. But it feels like it has a lot of stretch to it, and it's buttery soft and cozy.