Less than a week until my birthday, yet I'm already getting some awesome presents!

First, my new Swift!
:D :D



I had found plans for a homemade swift online, and printed them out, but neither Bill nor I have had the time to go get the materials and put it together.
Bill's father mentioned that he had most of the materials we needed in the junk pile at his work, and in fact, if we gave him the plans, he would put it together for me.
So we did, and he did, (but not without a few improvements) and now I have a super duper awesome swift!
Yay!
This is going to make balling up sock yarn so much easier, and it'll be much easier to skein up yarn I've dyed too! Rock!

Then, yesterday while we were in town, Bill bought me a whole bunch of quilting tools, and some fabric, he's so awesome.
So today I played with the rotary cutter and rulers and mats and new thread and batting, and put these little guys together: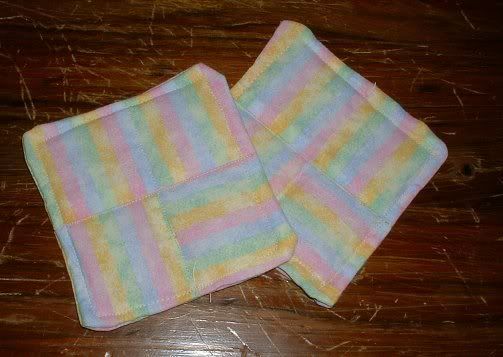 Cute little coasters.
They are far from perfect, and my poor old sewing machine had some tension issues when it came to sewing through all the layers, but I'm happy!