Now that I've finally finished Tasha's socks I can do some sock knitting for myself!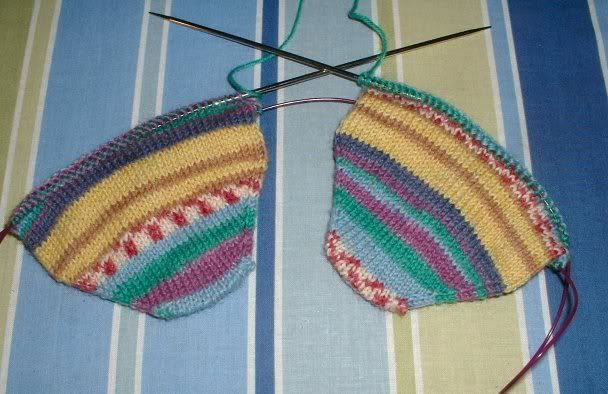 The yarn is Online Supersocke in the tropic colourway.
I liked the effect I got with the reverse striping on my regia socks, so I decided to knit from both ends of the ball with these.

Then I stitched up some tea towels: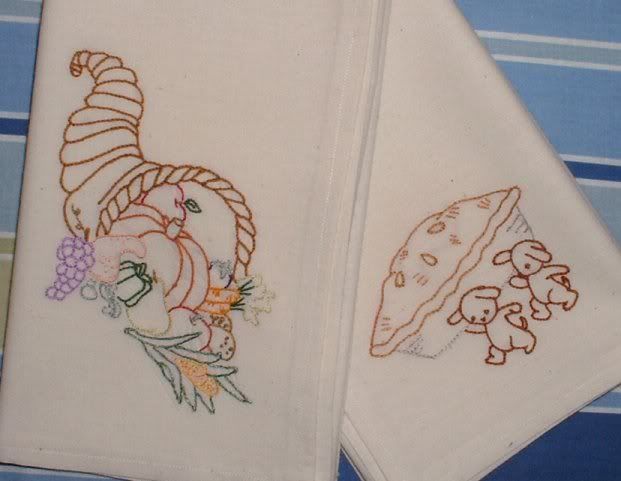 I'm going to give the cornucopia to one of my Grandmothers for mother's day, the other one is for me. We like to bake around here, and I was tickled by the idea of having a special towel just for rising bread. I don't know where those little dogs are going with my pie, but I want it back!

Both patterns were found at hoop love

and last night I finished another shirt for Bill: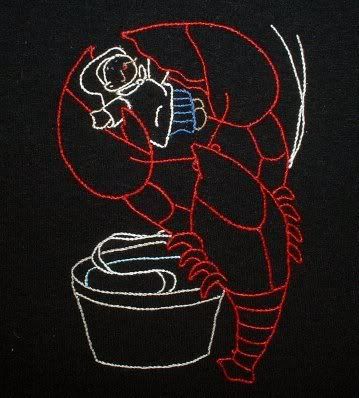 We are vegetarians, and when he saw this design he thought it was too funny NOT to put on a shirt. The whole set is like this, with a giant turkey, duck and pig too. It reminds me of the Shel Silverstein poem (which I can't for the life of me remember the name of, and all my books are at my parent's)

Once again, I traced the design onto the stabilizer and ironed that onto the front of the shirt to follow. And again I had trouble seeing exactly where my stitches were going, so it isn't a neat as I would like. I really need to find a better way to get designs onto dark fabric.

I'm not sure where I found this design now, I know it's an old McCalls pattern, and I have the file on my computer with the full set, but I can't for the life of me remember where I found it.