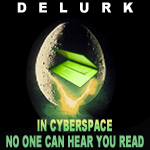 Today is the beginning of national de-lurking week.
And in honor of it I'd like to make a post about commenting:
I love comments, both giving and receiving.
One of the reasons I started this blog was to receive feedback on my projects.
I try to make comments on other people's blogs as well, because I'm sure they would like feedback too.
Sometimes I can't think of anything pertinent to say, and that's ok, but I always try to make an effort to let the other bloggers out there that I read know that they are appreciated and that their knitting is super cool. (Although sometimes when I read my bloglines I'm just too tired or scatterbrained to come up with something appropriate, I'm going to be trying to make a better effort at commenting though in the New Year)
About commenting in this blog:
Like I said, I LOVE reading your comments, and I often try to reply to let you know. Blogger doesn't give me your e-mail addressed though, and sometimes I'm too lazy or not sleuth-y enough to find them, so I will often just replay as a new comment in that post. I also do this because sometimes I get questions and I want everybody to be able to benefit from the answers. I don't want you guys to think that I'm ignoring you :) also, sometimes by the time I get around to replying, several people have made comments, so to save time and coherency I will usually reply individually to people within the same comment.
Once my job restarts in the summer I will most likely have much less time and energy to devote to posting and commenting, but trust me, I will still be knitting and reading all your comments!
For all that comment in my blog:
You guys rock! Not only do you put up with my babbling, but you usually give some really awesome input and I love hearing from you, keep it up!
And to all you lurkers out there (I know there are some, I check my hit stats) de-lurk! I'd love to hear from you! And not just this week, all the time, interaction is why I started this blog.