The Barbara Walker books I ordered just arrived!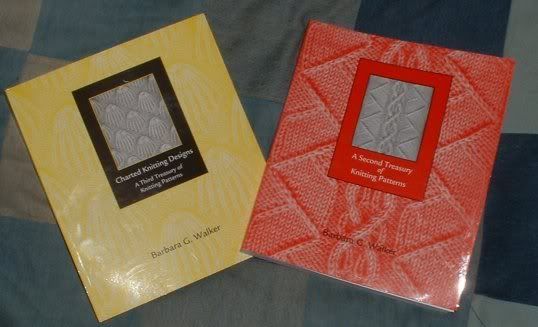 Oh. My. Gods! These are just stunning treasuries of patterns, I am having so much fun just paging through them.
I've been putting off getting these books, because I wasn't sure if I would like them, but they are AMAZING!
I only ordered the second treasury and the third treasury, I can get the first via my library, but I may have to buy that one too just so I can always have it on hand, and I see that she came out with a fourth treasury when the originals were reprinted.
I'm not big into pattern books, styles come and go, and frankly, I can almost never follow a pattern to a tee, I always make changes. (and almost anything I want to make I can find rough instructions online or in an Elizabeth Zimmerman book) but stitch libraries like this, I'm addicted! And the Barbara Walker treasuries are some of the best I've seen, she talks about the stitches and incorporating them into your own designs, or making your own! Perfect for somebody like me!