It's getting down to the wire, and I began to feel guilty about the lack of hand madeness to my gifts so I found some nice little last minute knits.
First, a heart sachet (pdf) for my grandmother.
Bolstered by Jo's success I jumped in on this one, I'm knitting it a bit smaller than the pattern calls for and my hands are not happy. I'm using left over yarn from my hederas.
Using even more leftover yarn is Perdita, in bluebell for my cousin.
This one is super quick, and I'm having fun, this is my first time beading too.
And last but not least mitten tops for Bill's mitts.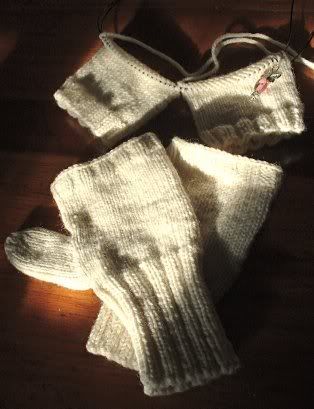 This is probably not going to be done on time, I was trying to keep it secret, but it's hard to secretly knit for somebody where you are around them so much.
The mitts were made about three years ago when Bill and I first began dating. I had a lot less knitting experience and sticktoitivness then, and the tops never got finished. He's been wearing the mitts whenever it's cold, and there's always the joke about how his fingers are cold, and when will they get finished. But I'm a lot closer to that now ;)