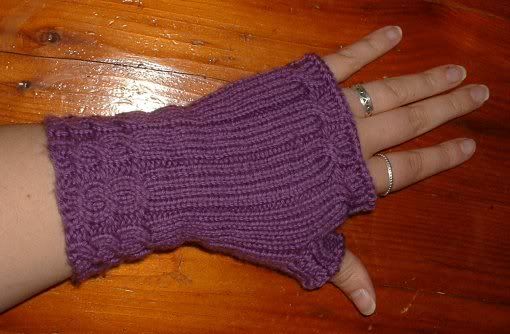 Yeah, I jumped on the Fetching bandwagon, better late than never.

I've wanted to make some warmers for a while, but just didn't really see any patterns that I like, or that I felt like working on.

Then the other day my hands were freezing here at the computer so i started really looking.

Now, I've been itching to try grumperina's method of cabling without a cable needle and there is a ton of pictures of fetching out there, (some better than others,) so I decided, what the heck!

I started this one last night while Bill was fixing dinner, and finished it tonight, right after dinner. pretty spiffy. I've already cast on for the second one, and having just as much fun as the first! Yahoo!

Stats:

Yarn: Knit Picks Swish Superwash leftover from the dog sweater.

Needles: US size 5 Inox 40" circs. magic loop. 6's would have gotten me closer to the gauge called for in the pattern, but swish is a bit thinner than the recommended yarn, and I wanted to maintain snugness, especially as in most pictures of them I've seen they have looked a bit baggy.

Modifications: tons, I don't think I can ever follow a pattern exactly.

Obviously I changed yarn and gauge, but with the stitch gauge change it messed up the row gauge as well, and the pattern is written in rows, not inches. So I had to figure out how long I was supposed to knit by multiplying her recommended rows by her row gauge.

Then I threw it out the window. I wanted mine to be a mite longer than most versions I've seen, so I knit for 3 1/2 inches rather than the pattern's 2 1/4 before the thumb. I also knit the thumb over 10 stitches instead of 7, smaller stitch gauge remember? And I always have a problem of gloves and mittens being too tight around the base of my thumb.

I knit the top of the hand a bit longer before the final cable as well. Then I picked up the thumb stitches differently, and knit the thumb in 2x2 ribbing to compensate for it being a bit larger than called for. In retrospect, probably could have decreased a few stitches for a better fit once I got past the base, as you can see in the pictures, it's a bit baggy, but not bad enough that I want to rip it out. I also knit it for father up my thumb ha the original pattern; thumbs want to be warm too!

The first two cable crosses at the wrist are done as per the pattern, but it thought they looked a bit short, so the second cable cross I waited 6 rows instead of 5. I like that way it looks.

I also threw the picot bind off out too, I thought it just made the cast off edge look messy, and I prefer my normal K2tog bind off, nice and stretchy, yet still looks nice and neat.

ETA:

Hey Look!
There's even a KAL!