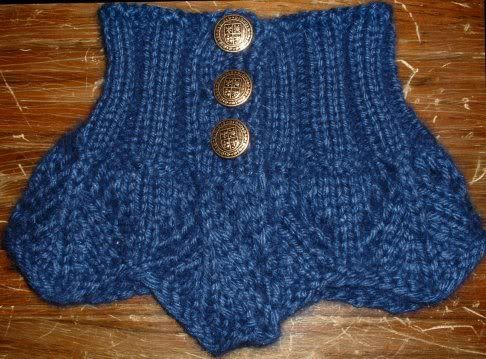 This was very fun and quick to knit, and the panache was heaven to work with a little fuzzy, but so soft!
I made this with exactly one skein of panache (I had maybe three inches left over) I would have liked to make it a little longer, so maybe next time I'll order two balls and try to figure out something to do with the leftovers. Of course I probably could have picked a different yarn that comes in more yardage, but then it wouldn't have been so soft and decadent.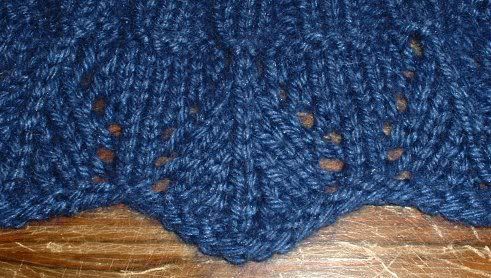 I'm really happy with the buttons too, like I said, I didn't have much yarn left, so I sewed them on using embroidery floss. they go perfectly with the blue. This is going to my mother for Yule, so I'll be giving her the extra button incase one comes off, I'm not very confident in my sewing skills.

and here is the pattern just for you my loyal readers:

***
Victorian lace and ribbed neck warmer
Size
: to fit 15 inch circumference neck (for larger or smaller sizes add or subtract repeats as necessary, 1 repeat is 11 stitches and roughly two and a quarter inches)
Yarn:
any bulky weight yarn, I used
Knit Picks Panache
Needles:
Size US 7 and US 9 or size to obtain gauge.
Gauge:
4.5 stitches per inch on smaller sized needles.
Pattern:
CO 77 sts
Set up row: knit all stitches
Row 1: *K1, yo, K2, ssk, K1, K2tog, K2, yo, K1* rep.
Row 2 and all even: purl
Row 3: *K1, yo, K2, ssk, K1, K2tog, K2, yo, K1* rep.
Row 5: *K1, yo, K2, ssk, K1, K2tog, K2, yo, K1* rep.
Row 7: *K2, yo, K2, double dec. (Slip two together, Knit one, Pass Slipped Stitches over.)
K2
, yo,
K2
* rep.
Row 9: *K3, yo, K1, double dec. K1, yo, K3* rep.
Row 11: *K4, yo, double dec. yo, K4* rep.
Row
12
: knit
Decrease Row (switch to smaller needles): K10, K2tog, *K9 K2tog* rep. ending K10. (71 sts)
Ribbed neck:
Row 1: (WS row) P1, K1, P1, K1, P3, (
K2
, P3) *until last 4 sts, K1, P1, K1, P1.
Row 2: (RS row) P1, K1, P1, K1, K3, (P2, K3) *until last 4 sts, K1, P1, K1, P1.
Row 3: rep row 1
Row 4: (buttonhole row) P1, K1 sl1pw wyif,
yib
, leave it there, (sl1 pw, psso)x3, sl last st back to left needle, turn, yib, cable cast on three stitches, cast on one more st but with yif before placing it onto left needle, turn, sl1kw, pso, K1, (P2, K3)** until last 4 sts, K1, P1, K1, P1.
Row 5-6: rep row 1 and 2
Repeat rows 1-6 two more times, bind off.


Sl1pw = slip one purl wise
Sl1kw = slip one knit wise
wyif = with yarn in front
yib = yarn in back
psso = pass slipped stitch over
pso = pass last stitch over
ssk = slip one stitch knitwise, slip the next stitch knitwise, knit the two slipped stitches together.
The pattern as written will work for exactly one ball of Knit Picks Panache.
(50 grams ≈ 68 yards)
If you would like a taller neck warmer, and are using a different yarn or don't mind having most of a second ball of panache left over, repeat rows 1 & 2 once more after rows 5 & 6 for each repeat.
If you have any questions of comments about the pattern please, feel free to contact me.

***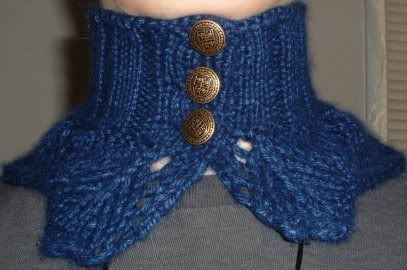 For blocking I pinned out the lace bit as far as I could stretch it without completely distorting the rib. I didn't want the ribbing to loose its elasticity so I just lightly spritzed the lace bit and let it dry, it looked like somebody had pinned out a small blue bat to our bedroom floor, but it worked, the ribbing is still nice and clinging, and the lace came out beautifully.